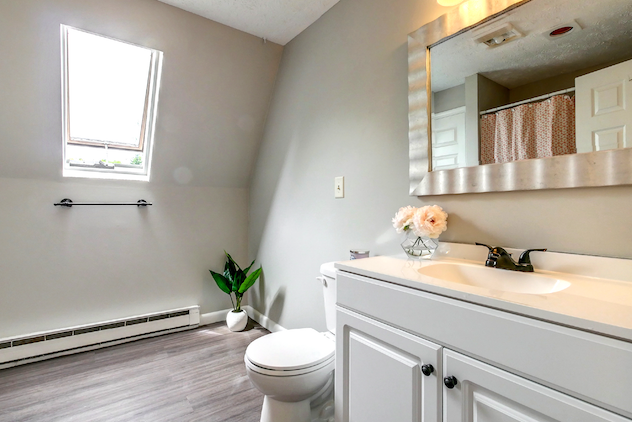 The bathroom can quickly become one of the most neglected rooms of the house. Sure, we need to clean it often. We certainly use it often enough! We probably never think to update the bathroom in small ways. There's many quick things that we can do in the room that allow us to refresh the room without a total overhaul.

Add A New Mirror
Adding a new mirror not only will brighten the room, it could make a small bathroom appear larger. A new medicine chest with a mirror attached is also a great option that helps you to stay organized and keep medicines and other essentials hidden from plain sight. Adding lighting to a mirror is another bonus that will add some function and a new element to your room. Place a mirror strategically for a room that looks larger.

Add Some Fresh Paint
A fresh coat of paint in a room can work wonders. You can update the color of the space and completely transform it by adding new matching shower curtains and accessories.

Make Sure Your Cabinets Are Functional
It's not practical to have storage in your bathroom that you can't use. If you have things stored in the bathroom, be sure that you can actually get to all of the items. If you need to install pull-out shelves or baskets for easier access, do so. If your bathroom looks nice, but isn't very easy for you to use or find anything, it's not working for you.

Update The Tile
While this sounds like quite a project, installing tile isn't too hard of a DIY. You can buy types of tile that easy to install. With the right measurements, there won't be a ton of cutting tile and filling in the cracks. The most difficult part of this project could actually be removing the old tile.

Change The Light Fixture
Just this one simple change can make your bathroom look like an entirely different space. Choose a light fixture that will have a dramatic effect on the room and match your desired style.

Replace The Countertop
Bathroom countertops don't get quite as much attention as kitchen countertops do. The truth is that changing the area of the bathroom countertop, along with anything else you choose to do, can really have an impact on the room. You don't need to find an expensive material. Just pick something that will go with the room and that you love.

Refinish Cabinets
Any cabinets that you may have in your bathroom could be refinished to breathe new life into the space. It's fairly simple to refinish cabinets that aren't in tough shape. All you'll need is some sandpaper and fresh stain for the wood. If the style permits, you could even repaint your cabinets for a new appearance.